Pljeskavica (Cyrillic: Пљескавица) is a patty dish popular in the Balkan region of Southeastern Europe.
Pljeskavica is eaten in Serbia, Bosnia and Herzegovina, Montenegro, and Republic of Macedonia, and can be found in Romania, Slovenia, Croatia, and Bulgaria. Traditional pljeskavica is made from mixture of ground meats. Typically two or more out of lamb, pork, beef, or veal grilled with onions and served hot on plate with side dishes (in Belgrade), as a hamburger or on fresh kajmak with a thick pita (lepinja) bread.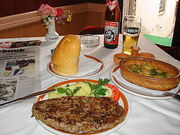 Recently, pljeskavica has gained popularity in Europe and is served in few speciality fast food restaurants in Germany, Sweden, and Austria. It is often served with kajmak milk cream, ajvar sauce of peppers and urnebes mixed spicy sauce .
Leskovačka pljeskavica (pljeskavica from Leskovac) is one of the most famous types in Serbia and is usually made of beef or pork, very spicy and served with onions. There are however, many other ways of serving it such as Šarska and Hajdučka. Šarska pleskavica is made of beef and stuffed with kashkaval cheese. Hajdučka pljeskavica is made of beef mixed with smoked pork meat.
References
Edit