Frankfurter Rindswurst (literally Frankfurt beef sausage) [also Rindswurst (literally beef sausage), Rote, Rote Wurst (literally red sausage)] is a kind of Brühwurst. It was first produced at the Gref-Völsing butcher's shop in Frankfurt in 1894.
The sausage is totally made of beef, wherein the muscle meat can be in part replaced by fat. In the first step of the production, the coarsely ground meat is put into a bowl cutter with nitrite curing salt and binding and emulsifying additives, where it is first chopped slowly. Subsequently, the fat and whipped egg white are added and the chopping speed is gradually increased, until the mass is ground to a very fine degree. Finally, the sausage mass is spiced with white pepper and paprika and in some cases a color retention agent is added. The sausages are then hot smoked for 60-90 minutes. They have a unit weight of 100 g (3.5 oz) and are filled into natural beef casings with a diameter of 32—34 mm (~1.3 in). For sausage that is to be roasted before consumption (termed Rindsbratwurst), table salt is used instead of nitrite curing salt.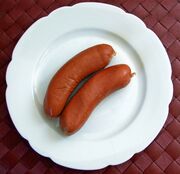 Hermann Koch; Martin Fuchs (2009). Die Fabrikation feiner Fleisch- und Wurstwaren (The Fabrication of Fine Meat and Sausage Products) (22nd ed.). Deutscher Fachverlag. ISBN I978 3 86631 187 6.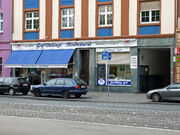 Website of the Gref-Völsing butcher's shop
https://www.the-best-recipes.com/recette-currywurst-saucisses-blanches-sauce-curry/
Community content is available under
CC-BY-SA
unless otherwise noted.