Ćevapi (pronounced /tɕɛv̞ǎːpi/) or ćevapčići (formal diminutive, /tɕɛv̞ǎptʃitɕi/, Serbian ћевапчићи) is a grilled dish of minced meat, a type of kebab, found traditionally in the countries of southeastern Europe. They are considered a national dish in Bosnia and Herzegovina[1] and in Serbia.[2][3][4] They are also common in Croatia, Montenegro, Slovenia, as well as in Republic of Macedonia, Bulgaria, Romania, Czech Republic, Slovakia and the Italian provinces bordering Slovenia.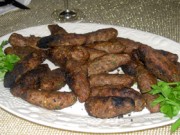 They are usually served of 5-10 pieces on a plate or in a flatbread (lepinje or somun), often with chopped onions, sour cream, kajmak, ajvar, cottage cheese, minced red pepper, and salt. Serb ćevapčići are made of either beef, lamb or pork or mixed. Bosnian ćevapi are made from two types of minced beef meat, hand mixed and formed with a funnel, while formed ćevapi are grilled. While Macedonian, Croatian, Bulgarian and Romanian varieties are often made of both pork and beef.
Etymology
Edit
The word comes from the Persian word kebab, sometimes with the South Slavic diminutive ending -čići (Croatian, Bosnian: ćevapčići/ćevapi; Slovene: čevapčiči/čevapi; Serbian Ћевапчићи/Ћевапи, ćevapčići/ćevapi; Macedonian Ќебапи, kjebapi; Bulgarian Кебапчета, kebapcheta; Czech čevabčiči). For more on the word's history, see etymology of kebab.
In Romanian, they are known as mici or mititei.
In other parts of the world, such as Australia, they are known by their traditional name as well as the Anglicised and marketing friendly term "skinless sausages."
Ćevapčići has its origins in the Balkans during the Ottoman expansion into southeastern Europe and developed through the Middle Ages into a regional specialty similar to the kofte kebab.[5]
In Bosnia, there are varieties of versions of the dish such as e.g. Travnički ćevapi from the traditionally cattle herder area of Travnik, canonical Sarajevski ćevap from Sarajevo area, that look similar but taste slightly different due to variations in seasoning and meat content (some varieties containing lamb or other non-pork meats), as well as Banjalučki ćevap which differs not only in taste but also by being grilled and served in connected tuples (usually of four). In all cases the dish is kept simple, and traditionally served in somun with onions and/or kajmak and yogurt or kefir as apetizer, whereas outside Bosnia, it's common for ćevapi to be served with variety of vegetables and seasonings.
In Serbia, there is a local variety of leskovački ćevap whose recipe is based on traditional Serbian pljeskavica but formed as a somewhat larger sausage (ćevap). It is named after the city of Leskovac, which now organizes the yearly Leskovac Grill Festival as a showcase of ćevapi and other grilled meat. The version in Leskovac uses only lamb and veal, no pork. In Belgrade, ćevapčići first came from Leskovac in the 1860s, into the kafana "Rajić" at the Great Marketplace (today Studentski Trg), from where they have quickly spread across the city.[6] Before the 1930s, they spread to the rest of the former Kingdom of Yugoslavia, including east of Serbia and Macedonia.[6] In 1933, the first street vendor with food appeared in Maribor, who came from Leskovac, and served grilled meat, including ćevapčići.[7]
In Austria, the Czech Republic and Slovakia, čevapčiči is generally served with mustard mixed with finely chopped raw onions and potatoes or French fries, in a common fast food manner.
References
Edit
External links
Edit